---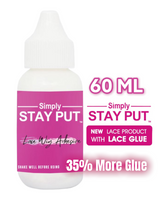 Sale
Simply Stay Put™️ Large 60ml Lace Adhesive
TruNuScalp
Sale price $47.99 Regular price $57.99
•LACE BONDING ADHESIVE- Our " Stay Point" is formulated for hair bonding replacement systems, bonding to the sound and scalp. 
•INVISIBLE BONDING FOR POLY & LACE SYSTEMS - "StayPut" bonding adhesive is safe for poly and lace hair replacement systems created for an invisible bond after application. 
• WATERPROOF & OIL-RESISTANT- you are able to get this lace bonding adhesive wet. You are also able to go throughout your day and your unit still not lift from the natural oils your skin produce 
•CONTAINS NO HARSH SOLVENTS OR TOXIC INGREDIENTS- "Stay Put" is designed for sensitive skin and scalp, the formula has no harsh chemicals, no lace, and no toxic ingredients 
Disclaimer: If you have allergies to Latex DO NOT PURCHASE this lace adhesive. 


PLEASE be sure to do a skin test if you have skin sensitivities to ensure this is the right product for you. These products have been lab tested on normal skin with no reaction. Please keep in mind if you have skin allergies. We highly recommend you performing a skin patch test. It's very simple, put a dot size amount of Simply Stay Put ™️ Lace Adhesive  behind your ear and watch the area for 24 to 48 hrs to see if you have a reaction before applying to the area where the product will be used.