Sale price
$19.99 USD
Regular price
Unit price
per
Save
Sold out
People are viewing this right now
Share
View full details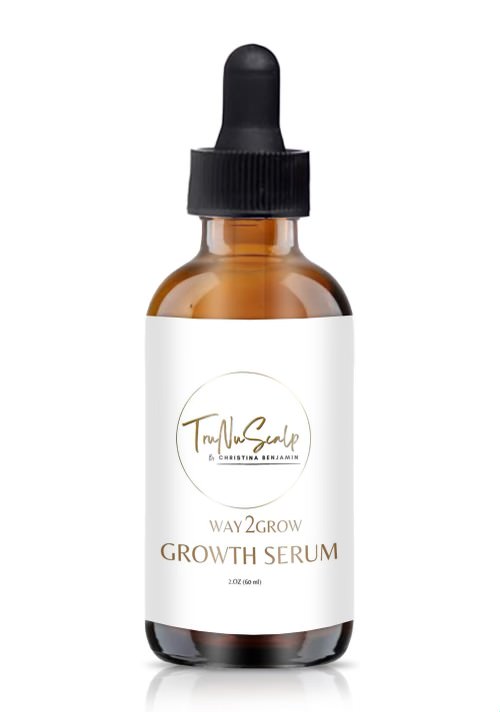 Introducing TruNu Scalp by Christina Benjamin's revolutionary hair growth serum - Way2Grow. Transform your hair care routine with this meticulously crafted formula designed to nourish and stimulate your scalp, promoting optimal conditions for healthy hair growth. Way2Grow is a fusion of cutting-edge science and nature's finest ingredients, meticulously blended to create a potent elixir that targets hair follicles at their roots, providing a holistic solution for those seeking luscious, vibrant locks.
Benefits:
Stimulates Hair Follicles: Way2Grow's advanced formula penetrates deep into the scalp, awakening dormant hair follicles and promoting a conducive environment for new hair growth.

Strengthens and Fortifies: Enriched with a blend of essential nutrients, Way2Grow strengthens hair strands from within, reducing breakage and promoting overall hair resilience.

Nourishes the Scalp: The serum's nourishing ingredients work in harmony to hydrate and rejuvenate the scalp, addressing dryness and flakiness while fostering a healthy environment for hair to thrive.

Reduces Hair Loss: Say goodbye to excessive hair shedding. Way2Grow actively works to minimize hair loss, helping you retain the hair you have while encouraging the growth of new strands.

Adds Shine and Vitality: Experience the transformative power of radiant, glossy locks. Way2Grow enhances hair's natural shine, leaving you with a head of vibrant, healthy-looking hair.

Suitable for All Hair Types: Whether your hair is straight, wavy, or curly, Way2Grow is formulated to cater to all hair types, making it an inclusive solution for anyone on a journey to longer, healthier hair.
How to Use:
Cleanse Hair: Begin by washing your hair with a gentle, sulfate-free shampoo. Pat your hair dry with a towel.

Apply Serum: Using the included dropper, apply a few drops of Way2Grow directly onto the scalp. Part your hair to ensure the serum reaches the roots.

Massage Gently: With your fingertips, gently massage the serum into your scalp using circular motions. Ensure even distribution.

Leave-In Treatment: Allow the serum to absorb into the scalp. For best results, leave it in overnight. If used during the day, avoid washing your hair for at least a few hours.

Use Regularly: Incorporate Way2Grow into your hair care routine 2-3 times a week for optimal results. Consistent use will maximize the benefits of this powerful hair growth serum.
Unlock the secret to longer, stronger, and more beautiful hair with TruNu Scalp by Christina Benjamin's Way2Grow – the ultimate solution for those who dream of luxurious hair care growth.
Ingredients:
Black-seed Oil
Safflower oil
Avocado Oil

Jamaican Black Castor 
Lavender Oil

Organic Coconut Oil
Thyme
Grapeseed Oil
Vitamin E
Ylang Ylang
Abyssinian Oil